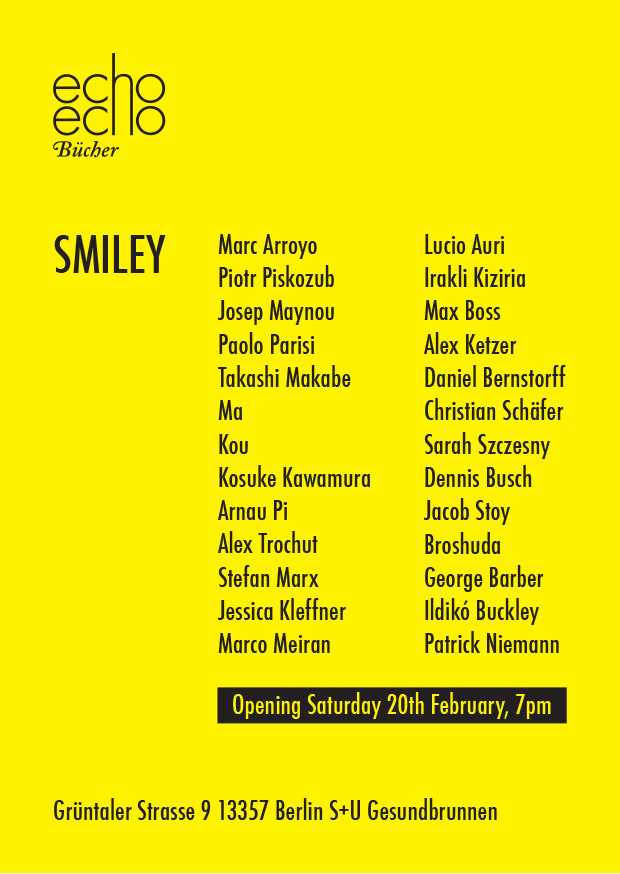 テクノ、エレクトリックミュージックを中心としたコンテンポラリーミュージックやクラブカルチャーに特化したベルリンのショップEcho Bücher。
2016年2月20より同スペースにて開催されるSMILEYにフォーカスしたグループエキシビジョンが開催。
日本からはMA、Kousuke Kawamura、KOU、Takashi Makebeの4アーティストが参加。
9つの国から集まった27組のアーティスト、ミュージシャンによるブック、ポスター、レコード、Tシャツ、アートワークなど様々な媒体にスマイリーを描いた作品が展示される。
–reproduce from Echo Bücher–
We love acid! We have a new small section for acid culture and to celebrate it we are showing an amazing exhibition.
This is our second homage to smiley so far. In Piotr Piskozub's poster show "Ravisions"?a Marsel Broothaers' inspired museum for imaginary raves that never existed?the acid icon played an important role.
This time we focus explicitly on smiley with 27 artworks from artists and musicians from 9 different countries.
In addition to books, posters, artworks and t-shirts, some acid records will be on display as well. Join us!
Start : 2016/2/20 19:00-
Echo Bücher. Grüntaler Straße 9, 13359 Berlin. T. 030 48628448 E.
http://echobuecher.com